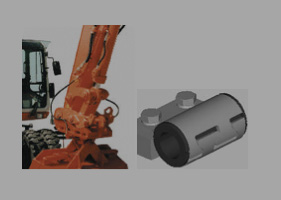 SERIES 0 PIPE CLAMPS
An economic solution for cables, pipes, and hoses
Space-saving and flexible with 6 mm to 22 mm Ø
– Quick assembly
– Little space required
– Guard plate provides stable clamping
– Secure tightening on pipes thanks to pre-tension
– Possibility of combining different diameter pipes
– Fastening with 6 mm Ø welded screws or bolts
– Especially ideal for cables, hoses, gas and oil pipes, and lubricating lines
– Metal pieces also deliverable in stainless steel
CLAMPS FOR CYLINDERS
It is possible to complete different assembly situations with individual pieces or combinations of pieces with practical positioning.
In this context, the following are taken into consideration:
– Pipe or hose assembly on hydraulic cylinders
– Different pipe and hose diameters
– Different distances between pipe and cylinder
– Assembly of various pipe supports for different pipe diameters
HSRS CLAMPS FOR MOBILE HYDRAULIC UNITS
Fields of application
Steel pipe clamps for hydraulic HSRS systems are mostly used in the field of construction machines and public works.
The clamp's fastening piece is welded edgewise, or flat against the body of the machine or to another construction component. The pipe clamp is screwed.
The clamp's sturdy construction style provides dampening effects against jolts and vibrations. Thanks to the clamp's low height, it is always possible to place hydraulic pipes later, for example after additional equipment has been mounted on construction machines.
Elastomer cover
Steel pipe clamps for hydraulic HSRS systems are supplied with an optional elastomer cover.
Advantages:
it is possible to fasten different pipe diameters with a single clamp
improved vibration and noise dampening
secure fastening of pipelines and delicate flexible pipe conduits as well
Materials:
Santoprene 64° Shore A
– high resistance to oil and outdoor weather
– resistance to temperatures between -40 and +125°C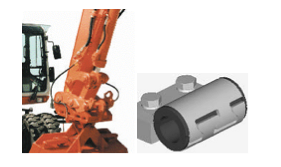 STRUTS – ROUND STEEL CLAMPS WITH BASE FOR PIPE.
Above all, these clamps are ideal for fastening pipes that experience thermal expansion. As an option, pipes can be firmly fastened through the clamp, or have a sliding adjustment.
Execution
Round steel clamps are manufactured in these two versions:
RUBS-round steel clamps according to DIN 3570 with two bolts, and
RUBLS-round steel clamps with four bolts, using the bases for KUPK or KUPL
Round steel clamps are supplied for pipe diameters between 17 and 762 mm. The bases for pipes are manufactured in a short and long version, and are made of polypropylene, polyamide, steel, and high-grade steel.
For more information on the range of Clamp products available at LEKU-ONA, contact us at: | T +34 943 74 34 50 | E leku-ona@leku-ona.com
https://lekuona.eus/wp-content/uploads/2017/04/Captura-de-pantalla-2017-04-04-a-las-10.44.50-copyok.jpg
200
281
cabodemarcas
https://lekuona.eus/wp-content/uploads/2023/03/LEKUONA-LOGO-web.png
cabodemarcas
2017-04-05 17:13:56
2017-04-05 17:13:56
SPECIAL CLAMPS