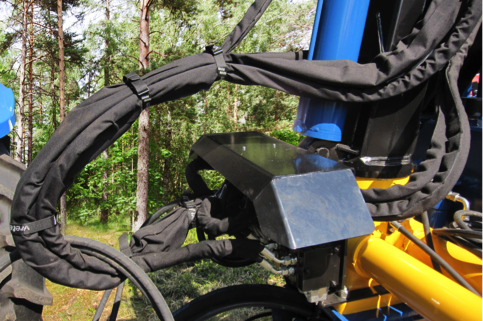 Safe-Wrap: a cheap and easy-to-fit solution for protecting and holding hydraulic hoses in place
The Finish company specialises in the production of high-quality plastic spirals and fabric products for different kinds of hose protection, which is why Leku-Ona places its complete trust in the brand as an accessory for protecting flexible hoses.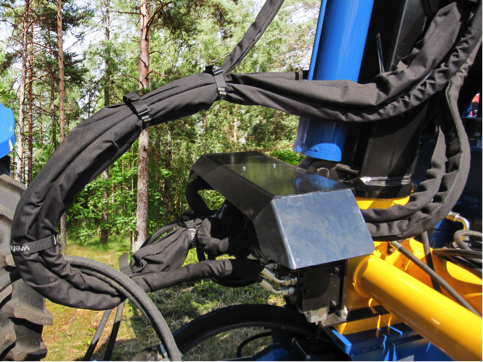 ¿WHAT IS SAFE-WRAP?
SAFE-WRAP is produced from 100 % polyamide with PU coating and Velcro® -brand fasteners which make it very easy and fast to install on hose assemblies afterwards and repeatedly.
This makes Safe-Wrap a very cost-effective solution for hose protection and hose bundling.
MAIN BENEFITS OF SAFE-WRAP
SAFE-WRAP protections can be used to protect all kinds of hoses and cables, such as the land cables of airplanes, tractors, excavators, forklift trucks and all kinds of construction machinery, big and small.

Its main advantages are:
– Very fast and easy to mount on hose assemblies because of velcro – fasteners => very cost-effective solution
– Can be used also afterwards
– For hose protection and / or hose bundling
-Pin hole –tested & approved
– Excellent tensile strength
– Abrasion resistant
– 100 % water repellence of the fabric
– Operating temperature up to + 120 °C
– In rolls 10 – 50m or fixed lengths
TECHNICAL SPECIFICATIONS:
Safe-Wraps tensile strength is excellent (EN ISO 13934-1) and water repellence of the fabric is 100 % (EN 24920).
The operating temperature is between -20 °C to +120 °C.
Safe-Wrap also fulfils the demands of standard ISO 3457 (pin hole –tested).
This product is very abrasion resistant.
Standard inside diameters available:
40mm, 60mm, 80mm, 100mm and 120mm
Other diameters (Ø 20mm to 400mm, in 5mm intervals) are offered on request.
Standard roll lengths: 10m and 25m
Other roll lengths up to 50m and fixed lengths are produced after order.
MORE INFO:
Should you require additional information about SAFE-WRAP or technical advice about any other SAFEPLAST product, don't hesitate to contact us on | T +34 943 74 34 50 | E leku-ona@leku-ona.com
https://lekuona.eus/wp-content/uploads/2016/10/foto1.png
362
483
cabodemarcas
https://lekuona.eus/wp-content/uploads/2023/03/LEKUONA-LOGO-web.png
cabodemarcas
2016-10-27 12:38:25
2016-10-27 12:38:25
Safe-Wrap: a cheap and easy-to-fit solution for protecting and holding hydraulic hoses in place