MKL offers an integral and immediate Laser Cutting service, personalised to suit the needs of every customer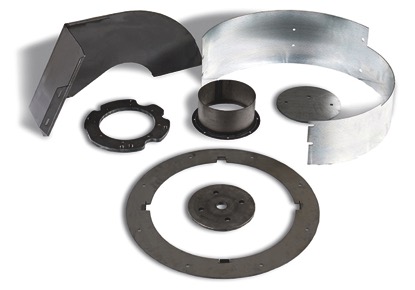 MKL Machining (Machining & Laser Cutting), belonging to the Leku-Ona Global Solutions Group, offers at its Itziar installations solutions applied to machining and laser cutting for more than 12 sectors.
Last year an innovative Flexible Manufacturing Solution was installed in this laser cutting division, permitting it to achieve controlled, ordered and traceable production thanks to a robot which manages the tasks of feeding and unloading materials.
It is precisely thanks to this process automation that it can even accept orders for single parts, with highly competitive prices adapted to the requirements of each customer. The company also has the necessary flexibility to manufacture complex and singular parts in all kinds of materials, such as carbon steel, stainless steel, aluminium, etc.
All with the latest technology in laser cutting machinery, complemented with drilling, tapping, bending, folding and welding work in order to offer our customers an integral solution.
Although more alternatives exist, laser cutting offers important added advantages:
High precision in thinner sheets
Cutting of very small holes, narrow parts, geometries with very sharp angles; manufacture of parts with complicated profiles
Edges with a perpendicular cut
Very good automation possibilities
Very low heat production, no deformation of parts
The laser cutting division therefore has different products for different sectors, including:
Wind power: separating bushing, angular brake disk protection, engine mounting parts, planet carrier bearing blocking plates, oil guards and oil collectors.
Machine-tool: star made to plan, engine coupling protection or the exclusive tapping machine frame.
Automotive: Different models of bus mounts and bus exhaust diffuser.
Construction: Electricity system conduits.
MKL CORPORATE VIDEO
By means of these products, MKL offers a personalised solution to each of its customers, putting its full dedication into every project, thanks to the fact that it has a quality and design department with more than 15 years of experience in providing solutions to dozens of companies.
If you would like to know more about MKL Machining or require technical advice on Laser Cutting or Machining, please don't hesitate to contact us by calling: + 34 943 89 73 78 or by writing to us at: MKL@MKLMACHINING.COM
https://lekuona.eus/wp-content/uploads/2016/05/Captura-de-pantalla-2016-05-16-a-las-15.40.03.png
355
767
cabodemarcas
https://lekuona.eus/wp-content/uploads/2023/03/LEKUONA-LOGO-web.png
cabodemarcas
2016-05-17 12:53:31
2016-05-17 12:53:31
MKL offers an integral and immediate Laser Cutting service, personalised to suit the needs of every customer