Leku Ona Global Solutions offers a 100% customised hydraulic reservoir manufacturing service
Amongst the services now offered by Leku Ona Global Solutions is the integrated manufacture and assembly of customised non-standard hydraulic reservoirs, made to the client's functional, capability and design specifications.
Each project is customised based on need. We start with the client's specifications, working from samples or plans, and adapt the equipment to the dimensions and needs of each machine.
Projects therefore include general coordination, supply of commercial units, final assembly and delivery, as well as cutting, folding and welding of the pieces. Our clients have access to a product range with high added value and top quality finishes, owing to the synergies between the companies in the group.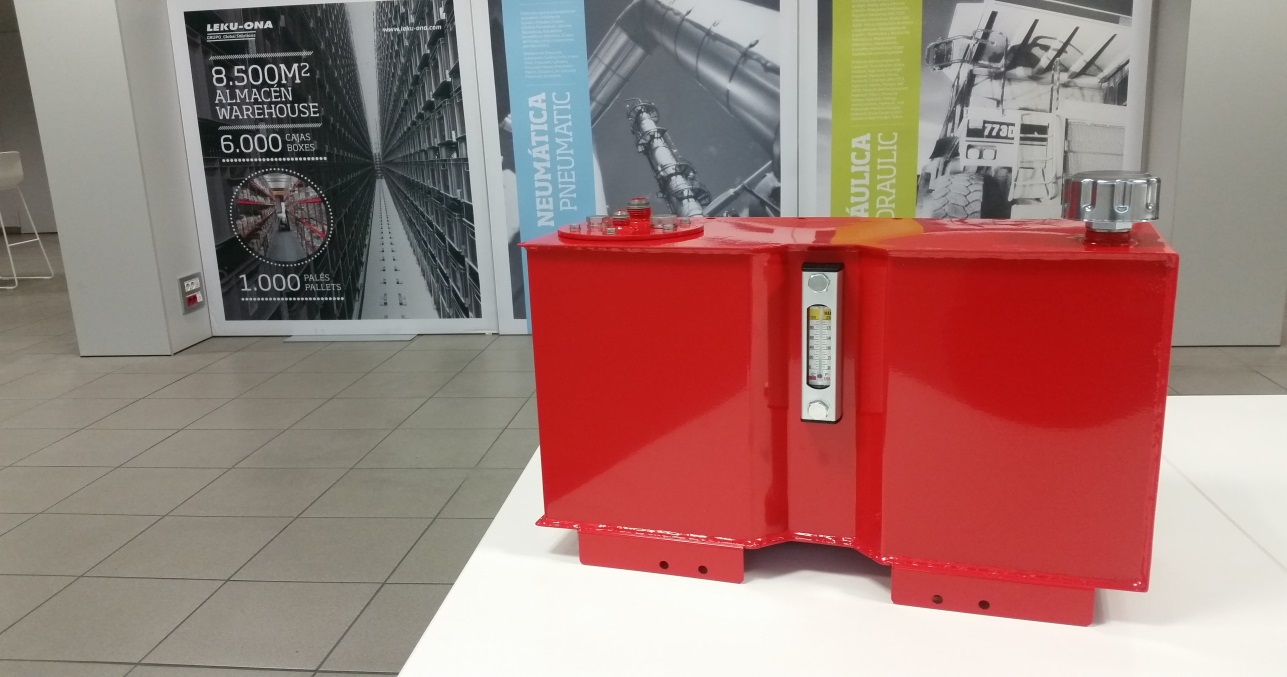 SAVING TIME AND MONEY

Clients are guaranteed to save time and money by not having to deal with sales admin, talk to different suppliers or manage the manufacturing of the reservoirs: Leku Ona handles it all.
By subcontracting the entire manufacturing process for these types of products, the client avoids potential coordination problems between the suppliers and processes involved. They assign the overall management of the project to just one supplier, thus being able to concentrate resources in their core business.
GENERAL SPECIFICATIONS:
– Hydraulic systems for coupling to three-point tractor connection, activated via power take-off and designed for use with tractor-compatible hydraulic tools.
– Paint treatments as per client specifications.
– Integrated manufacture and assembly process. Equipment quality is controlled at all times and a final check is carried out to avoid leaks in critical welding points.
TECHNICAL FEATURES:
Fitted without pump or with one or two hydraulic pumps mounted in tandem.
Quick connectors to facilitate fast coupling.
Suction filter.
Return filter with vacuum gauge, indicating filter saturation.
Oil level indicator with temperature gauge.
Oil cooler if necessary, to avoid overheating in the hydraulic circuit.
Customisable caps with client logo.

https://lekuona.eus/wp-content/uploads/2017/03/depositos-lekuona-01.jpg
677
1287
cabodemarcas
https://lekuona.eus/wp-content/uploads/2023/03/LEKUONA-LOGO-web.png
cabodemarcas
2017-03-21 10:21:58
2017-03-21 10:21:58
Leku Ona Global Solutions offers a 100% customised hydraulic reservoir manufacturing service