Leku-Ona opens office in China and expects to add another in India soon
The company Gipuzkoa technology specialist pneumatic and hydraulic Leku-Ona last year opened its first branch in 2012 abroad, particularly in China, where it has detected significant business opportunities. In fact, the signing amount and a team of seven people in China. And just in Asia provides short-term add a new office, this time in India, an important growth market with products that demand the firm.
Based in ITZIAR-DEBA, over its 39 years of existence Leku-Ona has been conforming to a changing market and is currently the leader in manufacturing and marketing a wide range of products and components related to automation in the areas of air , hydraulic, machining, laser cutting, tube forming and assembly. Thus, according to its manager, Alex Zabala, who represents the second generation to lead the firm, Leku-Ona today has six lines of business that will allow customers to have fifteen sectors, among others, agricultural , steel, automotive, machine tool, shipbuilding, paper, public works, petrochemical or furniture. This sectoral diversification enables the firm to maintain its position of leadership in the state, which has offices in Barcelona, ​​Madrid, Seville and Zaragoza and 3685 regulars and continue betting on internationalization, area that is making a strong bid Asia as a gateway to this emerging market.
Urtzinox
Currently, Leku-Ona has a team of 44 people and, among its past investments include the launch in 2010 of the company Urtzinox, distribution serving all kinds of logistics operator exerting components for other companies, mainly wind sector. Understanding by logistics operator company that custom designs his client processes one or more stages of the supply chain (procurement, transportation, storage, distribution and even certain activities of the production process), organizes, manages and controls such operations using this physical infrastructure, technology and information systems, themselves or others, whether or not to provide services with company or outsourced. In this sense, the logistics operator reports directly to the customer of the goods and services agreed incremental in relation to them and is their direct contact.
This achieves increased productivity and decreased costs of mobility both in personnel and procurement management. With only two years of existence, Urtzinox already has a team of 10 people and undertakes projects nationwide. Its medium-term objectives, sectoral diversification is.
 Meanwhile, in 2011, the firm acquired a laser cutting machine, lathe and machining center for machining parts to drawing, bringing the sixth line of business. In parallel, Leku-Ona has conducted an intensive branding project hand Guipuzcoa Company Trademark Cape. Through it, has created a brand architecture and redesigned the visual identity of the different business areas moving all the various communication tools such as catalogs, web, signage, newsletter, corporate video etc. All with the goal of creating and maintaining a corporate image that will help you gain a competitive edge and differentiate in a market as competitive internationally.
Links to publications: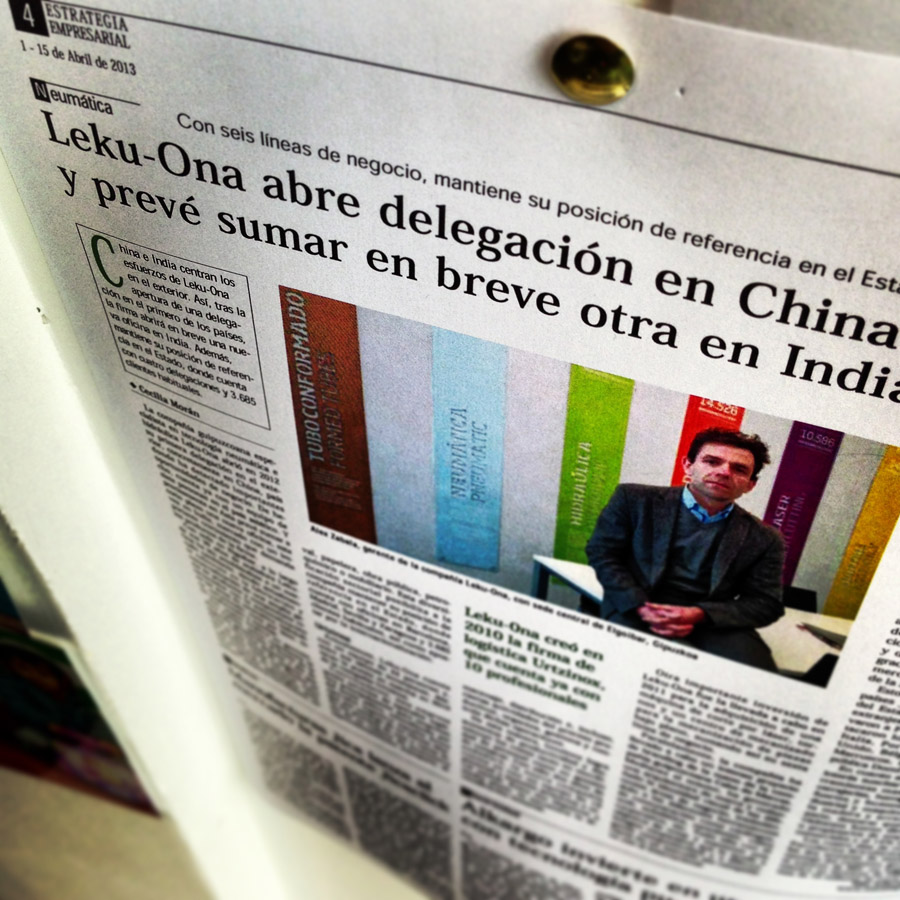 Photography©CABO DE MARCAS 2013
https://lekuona.eus/wp-content/uploads/2023/03/LEKUONA-LOGO-web.png
0
0
cabodemarcas
https://lekuona.eus/wp-content/uploads/2023/03/LEKUONA-LOGO-web.png
cabodemarcas
2013-04-09 17:58:27
2013-04-09 17:58:27
Leku-Ona in newspapers